The Incredible Hulk: Ultimate Revenge is a Marvel superhero slot from the game developer Cryptologic. It's a medium-variance slot which appeals to a wide range of players. Among the special features we find a bonus game, progressive jackpot, free spins, and win multipliers.

Betting
The largest possible bet on this slot machine is 125 credits.
The larger your bet, the larger your statistical chance of winning a progressive jackpot.
Symbols
There are twelve symbols in total, including a Wild symbol and a Scatter symbol.
Free spins & win multipliers
The free spins (with possible win multipliers) are presented within a fun little mini game that revels in destruction. Through The Hulk, you will get to select from five objects and then take aim at five helicopters. As soon as you hit a helicopter, you are rewarded. You can either accept the reward, or chose to try again (hoping for a better reward).
It is possible to re-trigger free spins and win multipliers during free spins.
About Cryptologic super hero games
The game developer Cryptologic has created wide range of branded superhero slots, some from the Marvel universe and some from DC Comics. Quite a few of them have been tied together into a superhero progressive jackpot network, where they all feed the same progressive jackpots.
Examples of superhero slots from Cryptologic: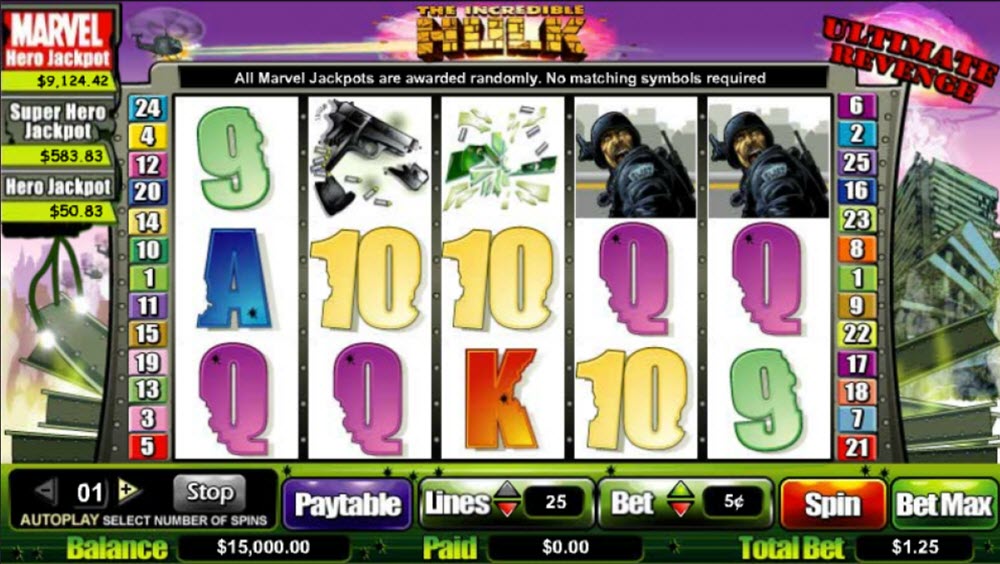 About The Hulk
The Hulk is a superhero character created by writer Stan Lee and artist Jack Kirby, drawing inspiration from the Frankenstein novel and Dr. Jekyll and Mr. Hyde.
The character, which first appeared in he eponymous comic book The Incredible Hulk in May 1962, belongs to Marvel Comics, and has been featured in both comic books, cartoons, video games, TV-series, and live action movies – including the highly successful Avengers live action movie franchise.
The Hulk is the super-strong alter ego of the scientist Dr. Robert Bruce Banner. In the early comic books, The Hulk and Dr. Banner were depicted as resenting one another, despite sharing the same body.
The Hulk alter ego came into being after the mild-mannered Dr. Banner was exposed to gamma rays when an experimental bomb exploded. After this exposure, Banner will involuntarily transform into The Hulk when subjected to strong emotional stress.
Throughout the years, the Hulk character has gone through various developments and been depicted in various ways. The early Hulk was often no more than a ravaging mindless brute, while later storylines have included the brilliant warrior Hulk, the genious scientist Hulk, and more. In the live action movie The Avengers: End Game, Dr. Banner has found a way to merge with The Hulk and does no longer alternate between being either Banner or Hulk.
The Hulk has two catchphrases:
Hulk smash!
Hulk is the strongest one there is!